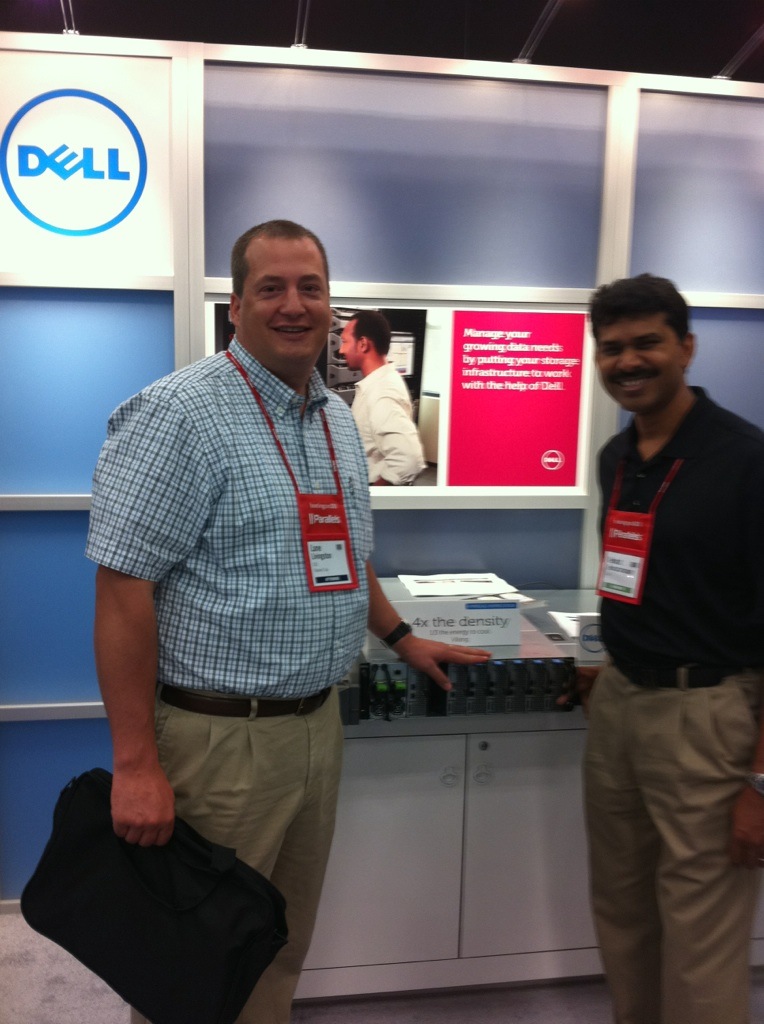 Yesterday was the final day at HostingCon 2010 in Texas. Above is a photo of us at the Dell booth at HostingCon 2010. We had a wonderful chat with some of the most brilliant minds at Dell.  It's amazing what Dell has accomplished in the past couple years.  We have established a relationship over the past year as a Certified Dell Vendor and a Dell Storage Enterprise Partner.  In other words, we love Dell.
Andy Rhodes was the keynote on Tuesday.  This was one of our favorite keynotes we have ever been to.  Andy serves as the Director of Global Marketing of Data Center Solutions (DCS) at Dell, Inc. The DCS division is responsible for providing customized infrastructure (server & storage) solutions to the world's largest scaled out datacenter environments, often referred to as Cloud computing centers. Customers include Microsoft (Azure) and Facebook as well as many Chinese Web2.0 companies. His organization is responsible for strategy, product planning, product management and go to market messaging.
It was a great speech to say the least.  Andy presented a list of lessons Dell has learned over the past few years. "They were buying and deploying devices on a scale never seen before," Rhodes said, noting that it forced Dell to re-examine some of its ideas on IT services.
One of the main points in his speech was that each business will have a unique TCO model. "Your TCO model will depend on processes,  everyone starts from different starting points," Rhodes said. Rhodes' next point is that forward-looking businesses aren't satisfied with the status quo. "There's been a massive change in infrastructure" going from large servers to blades, and now we've in the age of shared infrastructure and cloud computing, he said. These companies have had to deal with an accelerated pace of change. Not adapting soon enough, and delays in rolling out solutions can, therefore, cost companies dearly. "An enemy of progress is the status quo."]
His final point I loved: Instead of talking about the term cloud, they should talk to their customers about real pain points and how to solve them. "Get away from that word, it's not a valuable marketing commodity… customers want to know what it can do for their business."
GREAT SPEECH, it really hit home with us at Best Cloud Server.  We had a chance to speak with him later and talked about all the unique pain points that Dell is helping cloud hosting providers with.  They help with building unique servers that fit the special requirements that we all have.  They can help build a server specific to your cloud server needs and requirements.