At Microsoft annual FInancial Analyst Meeting, COO Kevin Turner made the statement "One of the most exciting things about our cloud strategy is that 70 percent of the wins in the cloud that we had in Q4, ladies and gentlemen, were new Microsoft customers," Tuner told financial analysts. "Yeah, new Microsoft customers. They were IBM Lotus Notes customers, Novell e-mail customers. They were all this other stuff, in addition to the Microsoft customers, that we're actually able to grow our portion of the pie this next year in a very dramatic way, because we can explode worker productivity."
Let's get this clear what he is saying, 70% of New Cloud Hosting Customers Are Using Windows for their cloud server.  He refers to "New" in this statement, meaning that NEW people switching from other places. The number Turner stated is staggering, assuming his definition of "new" means a customer who isn't using Microsoft products somewhere else, which is a tough claim for this reporter to believe.
"We now have over 10,000 paying customers on our cloud infrastructure platform and that number is continuing to grow every day, Turner said. (By the way, I could not get Microsoft's video plug-in to work in any non-Internet Explorer 8 browser; I've pulled the quotes from the live transcript, which uses a Java plug-in.)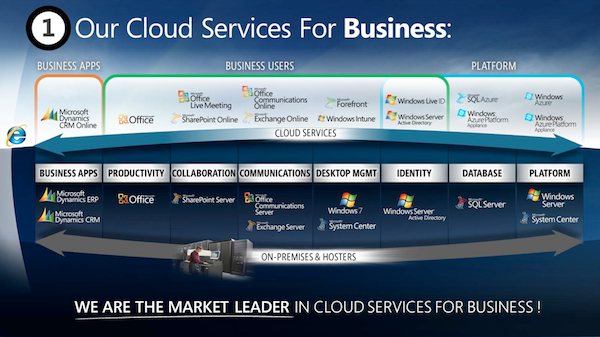 "Our second big focus for businesses clearly is around the Windows 7 and Office 2010 refresh," Turner told FAM attendees. Microsoft sells nearly 8 copies of Windows 7 a second. "For the first time in a long time, we grew share versus Apple in the United States in laptops per IVC this past year. Thanks to Windows 7. In fact, we were up 2.7 points against Apple in the United States in laptops." Now, I am a huge Apple fan and the fact that he's mentioning Apple in a meeting like this means that they view Apple cloud servers and Apple cloud hosting as a large competitor in the Microsoft cloud hosting world.
I guess we'll have to see what is in store for Microsoft that can oust the Apple Giant in the next year.  Can Microsoft cloud servers top the new apple cloud servers that are being released?  I guess we'll see!