Tried Jungle Disk iPhone Application today and thought it was pretty cool. My review of the Jungle Disk iPhone app is as follows. It's a very simple application where when you login to the app you see standard username and password.  It will take you to your online disks that you have set up.  You can check out everything that you put on there.  Very simple way to see everything that you have put on your Jungle Disks cloud hosting account.  There isn't much more to it then that.  From what I see you can't move anything or do anything other then that.
They are running a contest that I want to win, you can read the full article here. And no, I was not paid in any way to write this article.  I wanted to tell everyone what I thought about the iPhone application.  I think it's good but could use a whole lot more functionality.  Here is a screenshot!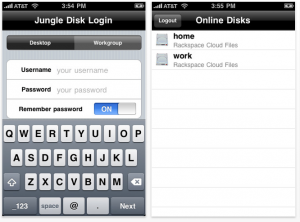 As you can see, this little cloud hosting application is very simple.  I'm sure in the next versions, there will be a lot more in the functionality.  The ability to move around files on the fly is useful… Can you make it so we can select folders and move everything.  I want to be able to mass add things on the fly.  From a marketing perspective you should have the ability to upgrade my account on the fly.  I want to access my documents and email.  One of the biggest things I love to do with this app is be able to access my music on the fly and anywhere.  I have tons of music and it can't all fit on the my precious little iPhone.  I think this little best cloud hosting app could do so many things.  Hope these tips actually get to the person that they should! #jungledisk .
Here is a brief from their article today:" Today Jungle Disk, LLC, a subsidiary of Rackspace  (RAX 18.54, +0.07, +0.38%) , the world's leader in the hosting and cloud computing industry, announced the availability of a free Jungle Disk App that allows users to access and manage their data stored with Jungle Disk via iPhone(R), iPod Touch(R) and iPad(TM). As the newest addition to Jungle Disk's portfolio of online backup and storage solutions, the app expands the number of ways Jungle Disk users can store, backup and share data in the cloud."
Read Market Watch's Full Article